Holistic Spa Services
wellness tools + treatments for all life's pulls and phases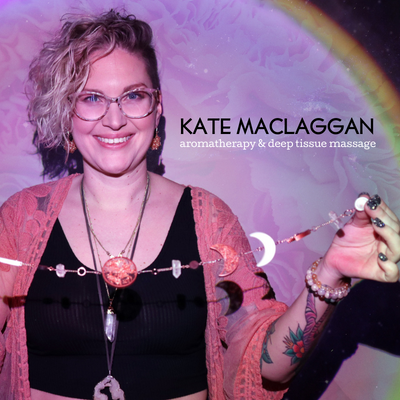 Through her holistic spa services, Kate aims to offer each person's unique body, mind and soul a safe(r) and welcoming space for grounding, healing, and relaxation. A former social worker and community-based educator, Kate has always been deeply committed to supporting the well-being of those in her community through compassionate, trauma-informed services. A constant student of life and mother nature, Kate has also completed various certifications in cannabis education and is happy to offer non-judgmental, consultative services for folks curious about incorporating the plant into their wellness routines.
Come and treat your body to nature's luxury! Kate only uses pure, natural and organic ingredients in all of her services:
- Aromatherapy & Deep Tissue Massage
- Herbal Hand & Foot Spa
- Seaweed Body Wrap
- Deep Back Cleanse
- Botanical Facial
- Hot Oil Scalp Massage
---
SERVICES + FEES
AROMATHERAPY + DEEP TISSUE MASSAGE - 45 MIN $60 | 60 MIN $75 | 90 MIN $110
Customized deep-tissue massage and aromatherapy blend, with optional herbal infusion, breathwork and guided relaxation
HERBAL HAND + FOOT SPA - $85 (75 MINUTES)
Botanical soak and gentle exfoliation, nail trim/file, basic cuticle care + specialized massage to hands, arms, feet and legs using a customized essential oil blend
DEEP BACK CLEANSE - $100 (75 MINUTES)
Herbal + sea salt scrub, clay mask + specialized back massage using a customized essential oil blend
SEAWEED BODY WRAP - $225 (150 MINUTES)
Full-body botanical exfoliation, warm seaweed wrap + specialized back and leg massage using a customized essential oil blend
BOTANICAL FACIAL - $90 (60 MINUTES)
Warm botanical compress, gentle herbal exfoliation, customized clay-based mask + specialized face, jaw and neck massage
HOT OIL SCALP MASSAGE - $60 (45 MINUTES)
Customized blend of essential oils and hot jojoba oil, specialized cranial and deep tissue massage to head and neck
PLANT-BASED WELLNESS CONSULTATIONS - $40 (30 MINUTES)
Customized discovery session to learn more about infused topicals and plant-based wellness tools
For more information, check out Kate's full holistic spa service descriptions here
---
***Note, Kate's services are not covered by most extended health care plans***
BOOK YOUR APPOINTMENT BELOW!
---