---
Rates for 30 minute sessions - Infrared Sauna or Therapeutic Bath
Single Session ~ $35


5 x Single Sessions ~ $140 (Save $35)
10 x Single Sessions ~ $250 (Save $100)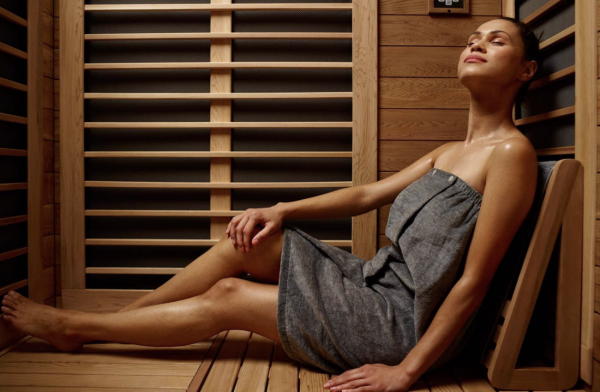 An Infrared Sauna or Spa Bath can be booked as a single 30-minute session
or added to another treatment. It's especially beneficial before or after your massage.
** Hydrotherapy sessions may be covered by your extended insurance when combined with registered massage therapy.
---
Infrared Sauna Therapy can help ease symptoms of chronic pain, Fibromyalgia, asthma, diabetes, blood pressure, poor circulation and much more. Read more about the Benefits of Infrared Saunas.
"By using infrared technology, we can gently heat the body using ceramic heating elements. Because that heat penetrates the skin so efficiently ... you sweat earlier. You can be in there at 75, 85 or 95 F and still be sweating ... without over-exerting your heart rate, your breath rate, or your blood pressure." Rodney Palma, SaunaRay.
Infrared Sauna Therapy can help you release toxins from you body because "you greatly can bring your body to a sweat-state without raising your core body temperature." In traditional saunas, the air temperature can be as high as 140-160 F. Our bodies where never meant to function at that temperature.
---
What to know...
Your Health History & Waiver forms must be updated before your first session (Save yourself some time and EMAIL us a copy.) The Wallaceburg Wellness Centre reserves the right to postpone any Infrared Sauna sessions if a customer's health shows any contraindications to this therapy, in compliance with Health Canada standards. Your health and safety is our first priority.
---
Booking Note: We need 30 minutes between appointments for room cleaning.