Volunteer as a Study Body with Cathy Cogghe
Wednesday, Thursday and Friday (9:30 - 11:00 am)
Saturday (1:00 - 3:00 pm)
(Note: October is full)
As many of you know, I am a student in a 4 year advanced manual therapy program. From September till March, I'll will be in a practical semester and I am hoping to get as much hands-on practice as possible.
To keep us organized, I have built this page as a way to book yourself into my school calendar. It works just like booking you massage appointments. See below for available dates and times. Feel free to drop yourself into what ever sessions work for you.

If you have any questions about helping out, feel free to email CathyCogghe@gmail.com.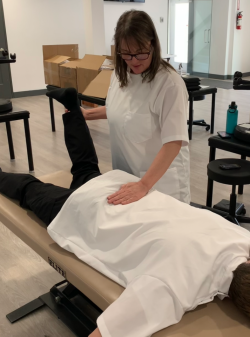 ** PLEASE NOTE:
Volunteers must be healthy and well to participate. NO painful movement issues, no bulging disc, etc. These sessions are not intended to treat ANY trouble spots or injuries.
There are no fees for these sessions.
All sessions are about 30 minutes long,

Each session typically involves a variety of treatment techniques while standing, sitting, or laying on a massage table in prone, side-lying or supine positions. (Please do not volunteer if you are unable to comfortably move

through

these positions.)

Dress comfortably in loose fitting clothes that are easy for you to move in. Unlike massage, patients remain full clothed for these sessions. (Avoid buttons, buckles, belts or extra layers that make it hard to feel the movement of joints and tissues

underneath

.)
I am so grateful that so many of you have offered to help me continue to study by volunteering your time as practice body. YOU PEOPLE ROCK!! Thank you! Thank you! Thank you!!