Aromatherapy, Relaxation Massage & Deep Tissue Treatments
As a student of Inner Insights Holistic School & Spa, Kate is currently looking for volunteer study bodies to complete her practicum hours!
These 60-minute, hands-on practice sessions are offered free of charge in exchange for your consent and formal feedback.
Utilizing Aromatherapy along with Swedish & Deep Tissue massage techniques, Kate aims to offer each person's unique body a safe(r) and welcoming space for grounding, healing and relaxation. A former social worker and community-based educator, Kate has always been deeply committed to supporting the well-being of those in her community through a compassionate, trauma-informed lens. She is thrilled to start her next chapter of work and life here in Wallaceburg.
---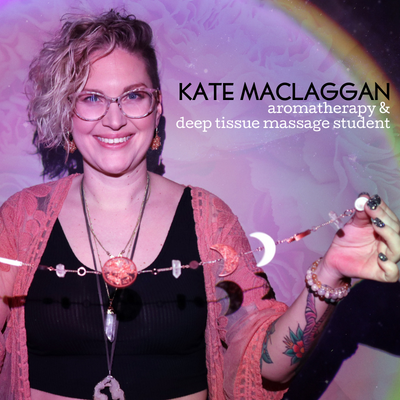 Now booking daytime appointments:
Sept 27
Oct 1
Oct 3
Oct 4
Oct 11
Oct 12
Oct 13
Oct 14
Oct 17
Oct 18
Oct 21
Oct 22
Oct 24
Oct 25
Oct 31
Don't see a time that works for you? Contact Kate directly hi@wakeandlake.ca
Book your free appointment with Kate below!