Enjoy our Infrared Sauna and Spa Bath on their own, or as an addition to your treatment!
---
Infrared Sauna sessions are currently available. The local public health has allowed Infrared Sauna sessions to remain open for single person use only. Capacity restrictions are in place, and of course, all our rooms are sanitized between every single appointment. Booking times are being staggered to allow extra time for proper cleaning and keep our capacity safely below requirements. The Wallaceburg Wellness Centre has been following all guidelines, working with public health to ensure all our safety. We do NOT require any passports as personal service category.

https://covid-19.ontario.ca/public-health-measures
---
Infrared Sauna Therapy can help ease symptoms of chronic pain, Fibromyalgia, asthma, diabetes, blood pressure, poor circulation and much more. Read more about the Benefits of Infrared Saunas.
Infrared Sauna Therapy can help you release toxins from you body because "you can bring your body to a sweat-state without greatly raising your core body temperature." In traditional saunas, the air temperature can be as high as 140-160 F. Our bodies where never meant to function at that temperature.
"By using infrared technology, we can gently heat the body using ceramic heating elements. Because that heat penetrates the skin so efficiently ... you sweat earlier. You can be in there at 75, 85 or 95 F and still be sweating ... without over-exerting your heat rate, your breathe rate, or your blood pressure." Rodney Palma, SaunaRay.
---
Infrared Sauna &
Therapeutic Bath Rates:
Single Session (30 minutes)
3 x Single Sessions ~ $75
5 x Single Sessions ~ $120 (Save $33)
10 x Single Sessions ~ $ 199 (Save $100)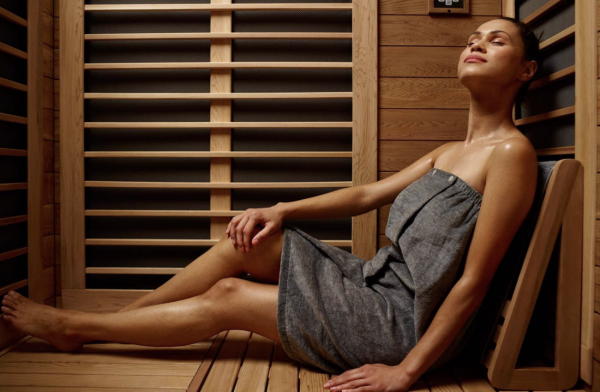 ---
What to know...
Your first sauna session begins with a quick health history update. We want to be sure you are getting everything out of this therapy you can. We want to make sure you know the benefits and precautions of infrared therapy.
What to wear? Your sauna room is privately located within our centre. Much like getting a massage at the WWC, what you wear during our session is up to you. Some folks bring a bathing suit; some prefer a t-shirt and shorts; and for others, just a towel is fine. Totally up to you.
Hyrdration is key!! Be sure you are getting plenty of extra fluids well before and after your session.
Showers are available after your session if you would like. Although many find that just "towelling off" is sufficient. You are never going to have cleaner skin than you do after a sauna.
Room for Two. Our sauna unit is a two-person unit and can be booked for 2 people at a time. Just indicate in the "appointment notes" who will be joining you and we will make sure lots of towels are available.
Your Health History & Waiver forms must be updated before your first session (Save yourself some time and EMAIL us a copy.) The Wallaceburg Wellness Centre reserves the right to postpone any Infrared Sauna sessions if a customer's health shows any contraindications to this therapy, in compliance with Health Canada standards. Your health and safety is our first priority.
---
Booking Note: Please allow for 30 minutes between appointments.