222 Wellington St. Wallaceburg ON 519-627-9355
Beginning May 8, 2020

Counselling with Allison Kiyoshk, BSc, MACP

(

candidate) will be available for booking. We are we are pleased and honoured to have Allison join our team at the Wellness Centre.
**Both Allison and

Maritza Rodriguez, MEd, RP, CCC,

are accepting appointments for Phone-In sessions only.**
---
​
Studio Space ONLINE Classes are now available!
Join Cathy for yoga classes 6 days a week. See the calendar and *reserve your spot at our "Classes & Events" tab


---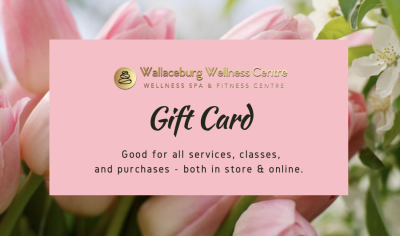 YES your fav products are still available for purchase. Have a look at our new SHOP ONLINE !! We even have Gift Cards available there.
Curbside pickups only until we can reopen to the public at this time.
We have Curbside TAP for debit & credit cards. (You may also send etranfer payments to wallaceburgwellnesscentre@gmail.com.)
Local deliveries only please.

If you need to arrange pick-up or delivery, you can

book it HERE.
Thank you all for continuing to support our businesses through this most unusual time.
---
**NOTE** All in-person appointments will be rescheduled
until we have permission to reopen.
Please feel free to rebook your appointments online. Stay well and be safe as we all make the best of this unexpected time off.
---
To book your appointment in advance...
Choose your provider and which day you would like to be scheduled.
Pick the time that works best for you.
Choose the service you are requesting
Add any you info think we might need to know.
Our automated booking system will do the rest. **Watch your email for a
confirmation
of your request.
(If you do not receive confirmation, please call our Front Desk at
519-627-9355
or email us at wallaceburgwellnesscentre@gmail.com and we'll be happy to help you out.)
We are looking forward to seeing you.
---