About Sally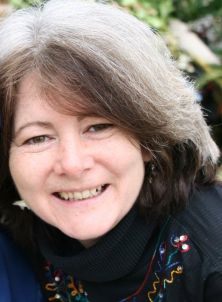 "I am a child of the 1960s, with a powerful ability to bring Divine energy to the earth. I am a conduit for healing energies. I have been learning about these energies and ways to share them for over 25 years. I have been acting as a wayshower to other emerging lightworkers for almost as many years. I was called to this path through personal illness when healing required that I make lifestyle changes to experience balance. My caring and compassionate way has developed over time as I have experienced many difficulties and challenges living as a sensitive in a not-so-sensitive world. So often in the last few years others have remarked to me that they feel better simply by being in my presence. At this time of great change on this planet I am being nudged to be a part of that change by offering my energy medicine ways."
Sally's Biography
Sally was born and raised in Chatham-Kent, Ontario. Her deep interest in healthy food began as a toddler when she played in the soil while her father tended to the vegetable garden nearby. As a teenager she added to the food preparation skills learned from her mother by preparing meals for her family. As a young adult Sally deepened her food awareness by studying, experimenting, and experiencing the affects of whole foods on her body, mind and spirit.
Sally's education and professional life have taken her to the mountains of Alberta and British Columbia, the northern lands of Manitoba and the Northwest Territories, and the near ocean places of Newfoundland. In each of those places her time in nature has inspired and guided her. She has worked with, drummed, and sat in circle with many people of many cultures and she has shared educational and wellness ways for many years. As a natural networker she connected people and resources wherever she lived. At this time her wellness toolbox carries the Radiance Technique (R), Reiki, Jin Shin Jyutsu (R), Feng Shui, Shamanism and a few other energy medicine ways.
Sally enjoys spending time with her creative and intuitive daughters Jessica and Chloe, nurturing friendships, spending grounding and inspiring time in nature, gardening, painting, writing, sauntering, bicycling, swimming, creating soulful meals, and studying expansive ways of living. She is also interested in healthy community development, sustainable living, positive communication and self development.
EDUCATION:
Bachelor of Environmental Studies, University of Waterloo
Bachelor of Education, University of Windsor
Certifications:
Holistic Nutrition, The Radiance Technique®, Orthobionomy®, Advanced Usui Reiki, High Touch Jin Shin Acupressure®, Jin Shin Jyutsu®, Feng Shui, Transformative Mindfulness®, Celtic Shamanism, Food Handler